The invasive Australian jellyfish, Phyllorhiza punctata, first reported in great quantities in the Gulf of Mexico in 2000, has made a vigorous reappearance this summer in waters from southwestern Louisiana to Morehead City, North Carolina. Beachgoers and boaters are encouraged to report their sightings of these exotic jellies to the Dauphin Island Sea Lab's jellyfish website, Dockwatch.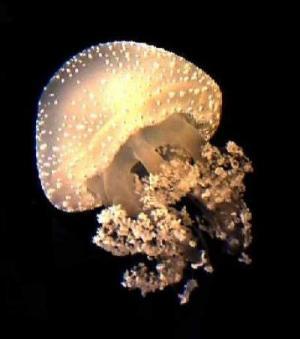 ©Dan Martin/Dauphin Island Sea Lab
The Australian spotted jellyfish can weigh up to 25 pounds.