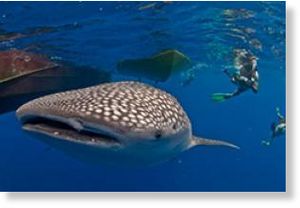 Scientists from Scripps Institution of Oceanography at UC San Diego returning from research expeditions in Mexico have captured unprecedented details of vibrant sea life and ecosystems in the Gulf of California, including documentations of new species and marine animals previously never seen alive.
Yet the expeditions, which included surveys at unexplored depths, have revealed disturbing declines in sea-life populations and evidence that human impacts have stretched down deeply in the gulf.
In one expedition, researchers Exequiel Ezcurra (adjunct professor at Scripps Oceanography and former provost of the San Diego Natural History Museum), Brad Erisman (Scripps postdoctoral researcher) and Octavio Aburto-Oropeza (graduate student researcher) traveled on a three-person submarine to explore marine life in the Gulf of California's deep-sea reefs and around undersea mountains called seamounts.