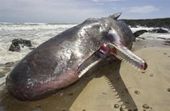 Just one sperm whale from a group of almost 50 that beached en masse in Australia's south has survived, and remains sandwiched among the dead, officials said Saturday.
The pod of 48 whales became trapped this week on a sandbar 150 metres (500 feet) offshore from Perkins Island on the northwest coast of the island state of Tasmania. By the time they were discovered on Thursday almost all had perished.
High winds and ocean swell prevented rescuers from floating the two whales who survived through Friday night out to sea, and by late Saturday rescuer Warwick Brennan said just one was still alive.
"We didn't get a chance to get the whales out so we've just been trying to maintain them, keep them cool, but unfortunately one of them has died during the day so we've only got one alive now," Brennan told
AFP
.