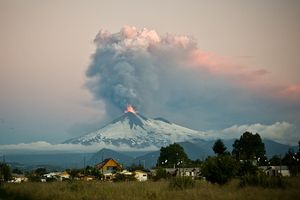 Chile's Llaima volcano, one of the most active in South America, spewed out a river of lava more than 1,100 yards long on Saturday in a fresh eruption, prompting officials to order dozens of people to evacuate.
Llaima, which lies in Chile's picturesque lake region about 435 miles south of the capital Santiago, erupted on January 1, 2008, and has belched rock and ash sporadically since then.
The lava and hot gases from the latest eruption are melting snow on the sides of the volcano, and authorities say some towns are in danger of being hit by mudslides.