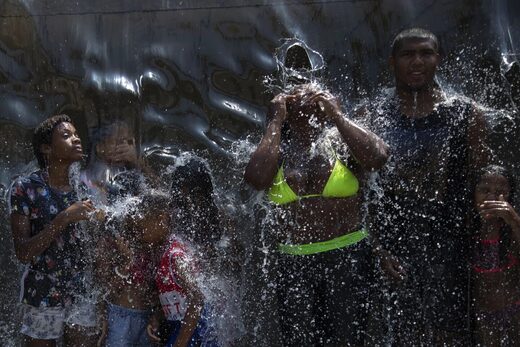 It's still spring in Brazil, but a dangerous heat wave is sweeping across large swathes of the country, forcing Rio de Janeiro's vendors off the streets due to health alerts and driving up energy demand amid reports of power outages.
Most Brazilian states face "great danger" from the heat, according to the National Institute of Meteorology.
The institution issued a red alert for the center-west, southeast and parts of the north warning of "a high probability of major damage and accidents, with risks to physical integrity or even human life."
The heat index — a combination of temperature and humidity —
hit 58.5 degrees Celsius (137 Fahrenheit) Tuesday morning in Rio, the highest index ever recorded there.
Actual temperatures dropped slightly on Wednesday, but were forecast to rise again to 40 degrees Celsius (104 F) on Thursday.
Cariocas — as residents of Rio are known — have always seen sun, heat and the beach as part of their identity, said Núbia Beray, coordinator of Rio de Janeiro Federal University's GeoClima laboratory. But this is too much even for many of them, she said.
"Cariocas come home from work in buses without air conditioning. Street vendors cannot work because they sometimes faint. The heat kills,"
Beray said.