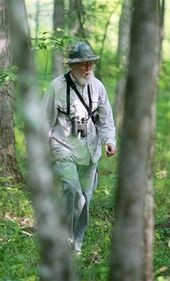 The rusty van creaks to a halt and two men jump out, binoculars in hand, heads pivoting. Quickly, questioningly, they call out evocative names: Is that a Pearl Crescent? A Carolina Satyr? A Sleepy Orange? A Swarthy Skipper?
It's butterfly counting time at a central Georgia wildlife refuge. That means a sweaty but fun outing for these two men, one a retired entomologist, the other the abbot of a Roman Catholic monastery. But it has a serious side:
some researchers worry butterfly populations may be in decline, possibly signaling a worsening environment.
The flying insects are often viewed as canaries in a coal mine because they are sensitive to changes in their habitats.