Cold-water eddy 'monsters' mighty current off Sydney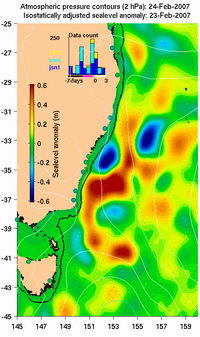 ©CSIRO Marine and Atmospheric Research
Diagram compiled from satellite data of the cold-water eddy off Sydney.
Oceanographers have identified a huge, dense mass of cold water off Sydney but know very little about what causes it or the influence it has in the Tasman Sea ecosystem.
"What we do know is that this is a very powerful natural feature which tends to push everything else aside - even the mighty East Australian Current," says CSIRO's Dr David Griffin.
Dr Griffin, from the Wealth from Oceans Flagship Research program, said cold-water eddies regularly appear off Sydney.