UPDATE: I still find this hard to believe, is it possible that Mann has mislabeled his data files such that the smoothed data appears in the annual predictions column in his data file, rather than the raw counts? I find it hard believe that it is otherwise the case.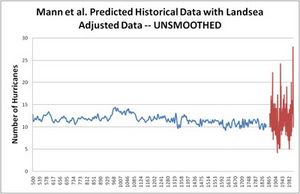 I was curious how the curve shown in Mann et al. discussed earlier today would look using adjusted data, and thanks to Michael Mann the
data is up online
allowing a comparison with data adjusted according to work in 2007 by Landsea (i.e., it doesn't include the analysis from Landsea et al. released this week).
I graphed (above) the adjusted data (red curve) along with Mann et al.'s "predicted" historical data (blue curve, based on the Landsea data) both unsmoothed, just to see what it looks like -- using information from these files at Mann's directory: