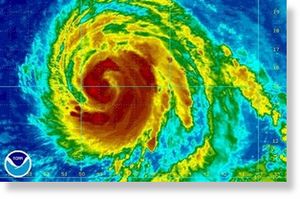 Miami - The National Hurricane Center says Hurricane Bill has become a Category 3 storm far out in the Atlantic.
A hurricane hunter plane found that winds had increased to near 125 mph Tuesday night, making Bill a major hurricane, the first of the Atlantic season.
The National Hurricane Center says people in the Leeward Islands should monitor Bill's progress.
As of 5 p.m. Tuesday, Bill was centered about 635 miles east of the Leeward Islands, moving west-northwest near 16 mph.
The most significant threat the storm seemed to pose was to Bermuda, which it could pass in three or four days. But it also could move directly between Bermuda and the eastern coast of the U.S. without making landfall.