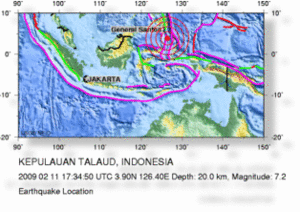 Jakarta - A powerful earthquake which struck near the Talaud Islands north of Indonesia's Sulawesi island has damaged many buildings in the area, the meteorology agency said on Thursday.
The quake, at a shallow depth of about 10 km (6.2 miles), was felt strongly in the Talaud Islands, and followed by several aftershocks. A tsunami warning issued by the agency was later lifted.
Oktifar Tribandono, an official at the agency, said many houses in the area collapsed, and two churches were damaged, but so far there have been no reports of casualties. The area lies in an agricultural belt and is sparsely populated.
The U.S. Geographical Survey initially put the quake at a magnitude of 7.5 magnitude, although later lowered its estimate to 7.0.
A reporter for Indonesia's state radio station in the town of Tahuna said frightened people had rushed out of their homes after the strong quake on the islands bordering the Celebes Sea.