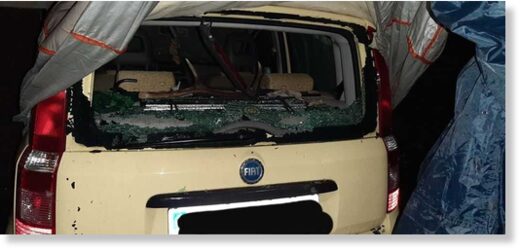 Violent storms with strong winds, downpours and
hail hit Slovenia Wednesday evening, causing huge damage and disruption across central, eastern, northeastern and southeastern Slovenia.
Several hundred firefighter units were dispatched to over 500 locations across the country to pump water from houses, patch up roofs, divert torrents and clear fallen trees and debris from roads, the Civil Protection and Disaster Relief Administration said.
The biggest damage was sustained by the area of Domžale about 15 kilometres north-east of Ljubljana, which was battered by hail the size of an egg for more than half an hour. Other parts of the country experienced landslides and flooding and power outages.
The state of the damage in Domžale was inspected on the ground by Economy Minister Zdravko Počivalšek, who said more than 390 buildings had been damaged there. Deputy Mayor Renata Kosec put the damage estimate at around EUR 2.5 million.
Large hail bombardment in Rodica near Domzale, Slovenia last night, July 29th. Video by Nastja Volf - posted with permission. pic.twitter.com/1eoEwOKCEj

— severe-weather.EU (@severeweatherEU) July 30, 2020