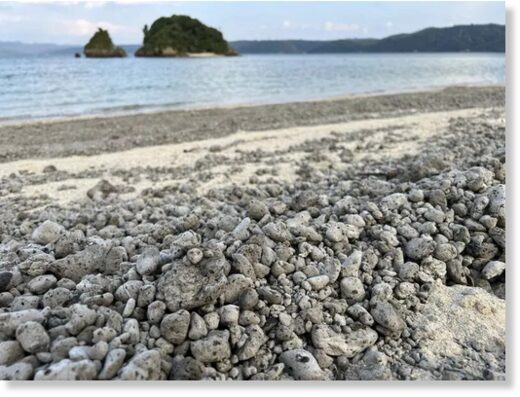 The biggest underwater volcanic eruption Japan has seen since the end of WWII has left shores covered in pumice stone. In one video, stones are seen covering the waves, while images show fishing ports inundated with volcanic rock.
The volcano, Fukutoku-Okanoba, is situated on the Ogasawara island chain, about 800 miles from Tokyo. It sits about 25 meters below the surface of the sea.
It exploded on August 13, with images showing a huge plume of gas rising out of the sea, into the air. Satellite images from NASA showed a huge bright plume streaming from the vent, stretching for miles.
In a NASA statement, Andrew Tupper, a meteorologist with Natural Hazards Consulting, said: "What was remarkable about this eruption is that it went straight from being a submarine event to an eruption cloud reaching the lower boundary of the stratosphere. That is not very common for this type of volcano. We normally see lower-level plumes from submarine eruptions."