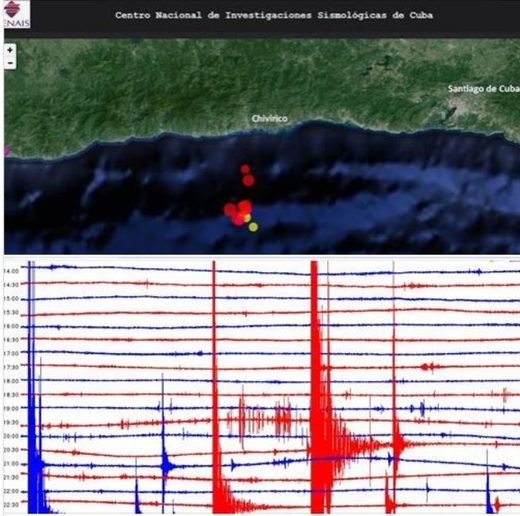 More than 20
earthquakes
, some of them perceptible, and a tornado that caused material damage, were reported this Sunday in eastern Cuba.
According to the National Center for Seismological Research (CENAIS), until 7:30 pm (local time), 21 telluric movements had been registered in the eastern part of the island, "some of them perceptible by the population,"
in what is classified as "anomalous seismic activity."
The earthquakes were felt in the municipalities of Guamá, Palma Soriano, Tercer Frente, Contramaestre and Santiago de Cuba, in the province of Santiago de Cuba, in the municipalities of Media Luna, Bayamo and Bartolomé Masó, in the province of Granma, and in the city of Guantánamo in the province of the same name, reported CENAIS, which explains that so far no victims or material damage have been reported as a result of the quakes.
The largest of the tremors had a magnitude of 4.6 degrees and was recorded at 4:47 pm. It was located 20 kilometers south-southwest of the Santiago town of Chivirico, and just two hours later, a 4.2-magnitude aftershock was recorded. Both earthquakes are considered the seventh and eighth perceptible this year.
This seismicity, points out CENAIS, "corresponds to an activation of a segment of the Oriente fault to the south of the Guamá municipality, in the province of Santiago de Cuba."