The freezer could be the future for frogs and other amphibians. Efforts announced today are currently underway around the world to boost amphibian numbers with cryopreservation and assisted reproduction.
Breeding frogs and their cousins to increase numbers could help vulnerable species survive looming extinctions. But getting amphibians to mate is not always straightforward, so researchers are developing other techniques to give them a helping hand.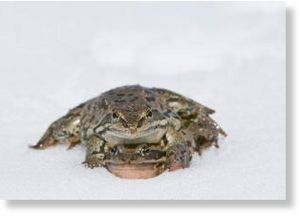 One proposal resembles the
doomsday seed vault
which opened this year in Norway. Only instead of plant seed, the amphibian vault would store sperm, guaranteeing amphibian genetic diversity for times of dwindling populations.