Sweet, rich and rare, Tahitian vanilla is the gourmet's choice and second only to saffron in the league of pricey spices. For botanists, Tahitian vanilla holds a fascination far beyond its flavour: the orchid that produces it is an evolutionary enigma. Vanilla tahitensis is known only from French Polynesia and New Guinea, where it has been cultivated since the late 19th century. The puzzle is where it came from originally. All vanilla orchids with aromatic beans are native to tropical America, yet this species has never been found there. Diligent detective work and DNA analysis suggest that the plant emerged from the chocolate gardens of Guatemala, crossed the Pacific on a Spanish galleon, and found its way to Tahiti in a French admiral's baggage.
All good detective stories need a decent hunch, some intriguing clues and, these days, some sophisticated DNA analysis. If the plot revolves around an old, unsolved case, so much the better. The Tahitian vanilla mystery has all this and more: exotic locations and a trail that spans half the globe and at least half a millennium.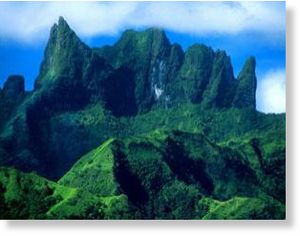 For more than 50 years, botanists have puzzled over the origin of the vanilla orchid grown on the islands of French Polynesia in the Pacific Ocean. The first formal description of the species was based on a specimen from Raiatea, the second largest island in the archipelago and sacred to the Tahitians, so it was named Vanilla tahitensis. Yet the orchid was clearly alien to these islands.