The speed at which mankind is using and abusing the Earth's resources is putting humanity's survival at risk, scientists have said.
The bleak assessment of the state of the environment globally was issued as an "urgent call for action" amid growing concerns of worldwide waste, neglect and governmental inertia.
Fundamental changes in political policy and individual lifestyles were demanded by the United Nations Environment Programme (UNEP) as it gave warning that the "point of no return" for the environment is fast being approached.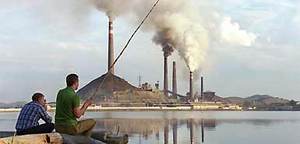 ©Alexander Nemenov/AFP/Getty Images
2 million people are killed each year by air pollution