Antarctic worms, sea spiders, urchins and other marine creatures living in near-shore shallow habitats are regularly pounded by icebergs. New data suggests this environment along the Antarctic Peninsula is going to get hit more frequently. This is due to an increase in the number of icebergs scouring the seabed as a result of shrinking winter sea ice.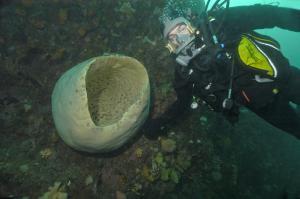 ©British Antarctic Survey
A British Antarctic Survey marine biologist encounters a giant sponge nearly 20m below the surface.
Scientists from the British Antarctic Survey (BAS) show how the rate of iceberg scouring on the West Antarctic Peninsula seabed is affected by the duration of winter sea ice, which has dramatically declined (in space and time) in the region over the last few decades due to climate warming. This increase in iceberg disturbance on the seabed, where the majority of all Antarctic life occurs (80%), could have severe effects on the marine creatures living as deep as 500m underwater.