A team led by a Texas A&M University anthropologist has discovered a group of primates not seen alive in 85 years. The pygmy tarsiers, furry Furby-like, or gremlin-looking, creatures about the size of a small mouse and weighing less than two ounces, have not been observed since they were last collected for a museum in 1921.
Several scientists believed they were extinct until two Indonesian scientists trapping rats in the highlands of Sulawesi accidentally trapped and killed a pygmy tarsier in 2000.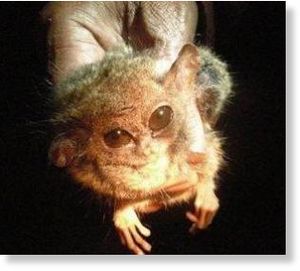 Sharon Gursky-Doyen, working with one of her graduate students, Nanda Grow, and a team of locals trapped three of the nocturnal creatures in Indonesia in late August. The pygmy tarsiers possess fingers with claws instead of nails, which Gursky-Doyen says is a distinguishing feature of this species, and distinguishes them from nearly all other primates which have nails and not claws. The claws may be an adaptation to the mossy environment, she believes.