As forecasters predict more snow, bookmakers are slashing their odds, fearing a white Christmas could cost them up to £1m
The increasing prospect of a white Christmas forced bookmakers to slash their odds today after interest in the customary festive bet went into "overdrive".
The icy weather, which has already brought chaos to many parts of the country, is set to extend with forecasters predicting more snowfall.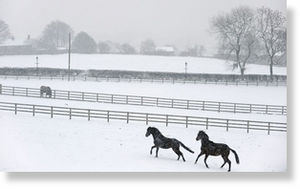 Laura Gilchrist, forecaster at MeteoGroup, said: "Tonight a warm front of air from the west will hit a colder front, creating snow. By the early hours of tomorrow morning most parts of the country will be seeing either rain or snow."