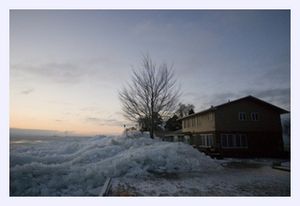 Tim Boutell said he and his wife heard the screech of "metal on metal," and then screamed themselves Sunday night as walls of ice pushed toward their Kawkawlin Township home along Saginaw Bay.
"About 9 p.m. my wife, Beth, heard some noise and I kind of disregarded it until she went downstairs to peek outside, and she obviously screamed. And then I looked out and saw the ice piled up and moving toward the house," said Tim Boutell, 50, owner of one of about 36 Bay County homes evacuated due to invading ice.
Boutell said he told his daughters, who were watching TV, to get up, get a bag and get out.
"Then (we) went down knocking on the doors of a few older folks who lived out here," Tim Boutell said. "We got them out, and then got out."