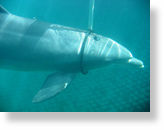 Very loud, repeated blasts of sonar can cause a dolphin to temporarily lose its hearing, according to an investigation into a suspected link between naval operations and cetacean strandings.
Numerous beachings of whales, dolphins and porpoises have occurred over the past decade, prompting a finger of blame to be pointed at warship exercises.
A theory is that the mammals' hearing becomes damaged by the powerful mid-frequency sonar used by submarines and surface vessels, prompting the creatures, which themselves use sound for navigation, to become disoriented.
A paper published in the British journal
Biology Letters
on Wednesday provides the first lab-scale investigation into this idea, although its authors stress it does not provide proof that warship sonar is to blame.