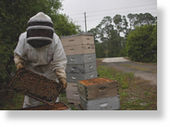 Jean Vasicek seems to know almost everything about bees.
She knows the terrifying sound that the beating of thousands of tiny wings can make, and she knows that her bees get cranky when the citrus trees aren't in bloom. And she knows that honey bees like hers are facing serious problems on a national scale.
Since acquiring her first hive from her brother about 10 years ago, Vasicek has accumulated more than 100 hives throughout the Orlando area, and has become the official beekeeper for Winter Park Honey.
But the situation has changed since she first started, and for Vasicek, it's been for the worse. "Back then you could take care of bees and hardly touch them," she said. "Now it has gotten very hard to keep bees alive."