Increasing noise pollution in the world's oceans is threatening the survival of whales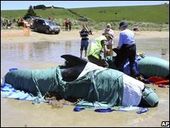 and dolphins, a UN-backed conference has heard.
Experts say the noises sea creatures use to communicate are being drowned out by noises from commercial shipping, new military sonar and climate change.
They become disoriented, cannot find mates or food and behave differently, scientists say.