Fires fed by raging winds raced across parts of Northern California on Tuesday, destroying dozens of homes, threatening hundreds of others and leaving a firefighter severely burned.
The fires were concentrated in areas north and south of the state capital, while separate blazes burned near the coast.
A 2.5-square mile wildfire destroyed 21 homes and about 30 other structures in Palermo, a town of about 5,000 residents, said Joshpae White, a California Department of Forestry and Fire Protection spokesman. It was about 50 percent contained Tuesday night.
The community about 60 miles north of Sacramento was evacuated temporarily while at least 350 firefighters fought to protect homes. About 50 residents planned to spend the night at an evacuation center.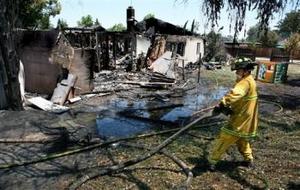 ©AP Photo/Steve Yeater
A Stockton firefighter pulls a hose around the back of a home destroyed by a fast wind driven fire in Stockton calif., on Tuesday, June 10, 2008. The fire ignited in a corridor along Interstate 5 and destroyed at least 30 homes and slightly injured two firefighters on Tuesday, a city spokeswoman said.