KURIHARA - Rescue squads and military helicopters raced to find 11 people missing after an earthquake in mountainous northern Japan sent hillsides crashing down Saturday, killing at least six and injuring more than 140.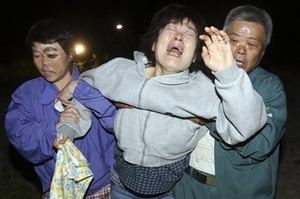 ©Associated Press
A woman reacts to news of a relative's death following a landslide caused by an earthquake in Kurihara, Japan, Saturday, June 14, 2008. A magnitude 7.2 earthquake ripped across the mountains and rice fields of northern Japan on Saturday, killing at least six people as it sheared off hillsides, jolted buildings and shook nuclear power plants. At least eight people were missing.
The 7.2-magnitude quake triggered several major landslides, blocking roads and stranding about 100 bathers at a hot spring resort. Crews searching for the missing had to hike mountain trails and dig their way to the worst-hit areas.
"It was the worst quake I have ever felt," said Rinji Sato, whose grocery store in this town near the epicenter was a mess of shattered bottles and food thrown from shelves. "We were just lucky this didn't hit a big city."