Chunks of glacial ice tinkled in whisky glasses as chilled tourists gazed in wonder from their boat at the massive San Rafael glacier and the markers tallying its losing battle against global warming.
"How can we stop this," asked German visitor Herman Kirst, 70, reflecting on the 100 meters (yards) that the glacier has shrunk this year, and every year since Captain Luis Kochifas began ferrying tourists to this spot in 1978.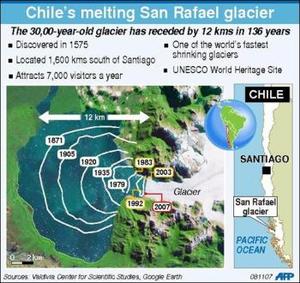 ©AFP
Graphic showing Chile's 30,000-year-old San Rafael glacier, which has receded 12 kilometres since 1871.