When it rains, it sometimes still pours out West. But it's not enough.
Changes in the western U.S. water supply, such as a declining snowpack and rivers running dry in the summer, can mostly be attributed to human-caused climate change, a new study finds. These changes will require a new approach to water management in the West in the future, scientists say.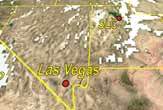 ©David W. Pierce, SIO; land image courtesy of NASA's Earth Observatory
Observations throughout the western U.S. show snowpack is decreasing, rivers are flowing earlier in the year, and spring temperatures are increasing. A formal detection and attribution study of these changes shows the majority of these trends are due to human effects on the climate.