Unlike many Washington state attractions, the word "majestic" does not apply to the slopes and swales of the Mima Mounds Natural Area Preserve. But walk amid the mounds, and you will be struck by how their subtle uniformity adds up to an otherworldly power.
The swath of grassy humps known as the Mima Mounds Natural Area Preserve spins a mystery as yet without an ending. And with any good story, context is critical.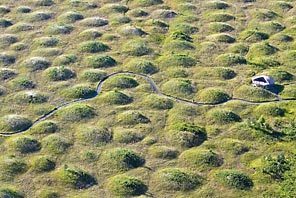 ©Chris Joseph Taylor / The Seattle Times
Summertime visitors who stroll along the Mima Mounds' interpretive trail will find themselves amid humps covered in lichen and moss, along with other vegetation, butterflies and bees. The color palette of the landscape, which is south of Olympia, changes with the seasons.