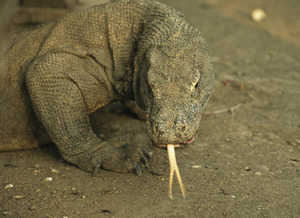 ©Kenneth Garrett/NGS
A Komodo dragon prowls Rinca Island, Indonesia, in a file photo. A new study has found that the giant lizards have surprisingly weak bites and instead use their sharp teeth and strong neck muscles to subdue their prey.
The world's largest living lizard, the fearsome Komodo dragon, has a bite weaker than a house cat's, researchers say.
Though known for killing prey much larger than itself, the Komodo relies on its razor-sharp teeth, strong neck muscles, and "space frame" skull to subdue its prey, according to a new study.