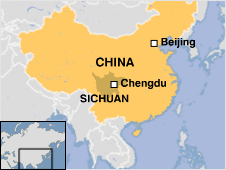 ©BBC News
Chinese President Hu Jintao has called for "all-out" efforts to rescue victims of an earthquake measuring 7.8 that has hit south-west China, say reports.
The quake struck 57 miles (92km) north-west of Sichuan's provincial capital, Chengdu, at 1428 (0628 GMT).
China's state-run Xinhua news agency said Premier Wen Jiabao was travelling to the area and troops were being sent to help with disaster relief efforts.
The extent of the damage is not clear and there are no casualty reports yet.