LONDON - Magpies can recognize themselves in a mirror, highlighting the mental skills of some birds and confounding the notion that self-awareness is the exclusive preserve of humans and a few higher mammals.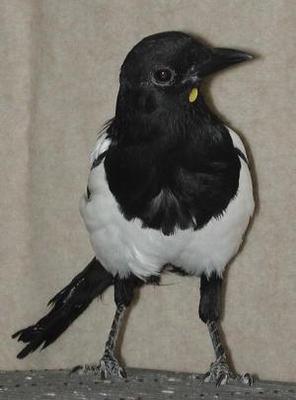 ©Prior H., Schwarz A., Güntürkün O., PLoS Biology
Magpie with yellow mark.
It had been thought only chimpanzees, dolphins and elephants shared the human ability to recognize their own bodies in a mirror.
But German scientists reported on Tuesday that magpies -- a species with a brain structure very different from mammals -- could also identify themselves.
"It shows that the line leading to humans is not as special as many thought," lead researcher Helmut Prior of the Institute of Psychology at Goethe University in Frankfurt told Reuters.