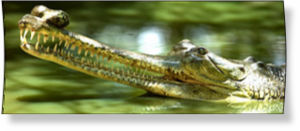 Measuring up to 6m long, with elongated narrow snouts, gharials are one of the world's most distinctive-looking crocodilians.
Just 100 years ago, these fish-eating reptiles were prevalent throughout the Indian subcontinent; but by 2007, there were just 200 breeding adults found in only a handful of rivers in India and Nepal.
Last winter, this already critically endangered species was dealt another cruel blow. Over the space of just five months, more than 100 of the creatures washed up dead on the banks of India's Chambal river - and nobody knew why.
For the past year, herpetologist Rom Whitaker, who runs the Madras Crocodile Bank, has been followed by a BBC Natural World team as he attempted to solve this mystery.