SANTIAGO - The government on Wednesday declared the evacuated Chilean town of Chaiten off-limits for three months until it is no longer threatened by a cloud of hot ash from an erupting volcano.
The Chaiten volcano, six miles from the town that had been home to 4,500 people, started erupting on May 2 for the first time in thousands of years, spewing ash, gas and molten rock into the air.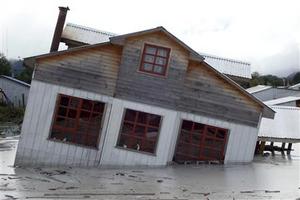 ©REUTERS/Stringer
A house is flooded by El Rio Blanco in Chaiten town May 12, 2008.