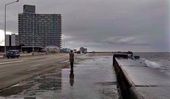 Camaguey, Cuba - Hurricane Paloma weakened as it passed over southeastern Cuba early Sunday, lashing the island with rain, gale-force winds and massive sea waves -- and forcing more than half a million people to leave their homes.
After making landfall on Cuba's southeast coast earlier in the day as a powerful Category Three storm, Paloma weakened to Category Two, displaying winds of 175 kilometers (108 miles) an hour, the national Institute of Meteorology said.
"It is now a Category Two storm," Jose Rubiera, the institute's director, said in a statement.
The US National Hurricane Center said Paloma packed winds measuring 155 kilometers (100 miles) an hour.
At 0600 GMT, the center of Paloma was about 45 kilometers (25 miles) southeast of Camaguey, the Miami-based center said.