A purple squirrel which appeared at a school has baffled experts who are unable to explain its colour.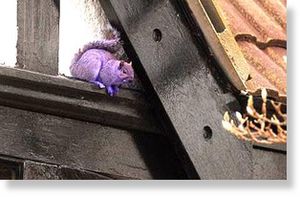 Teachers and pupils at Meoncross School in Stubbington, Hants, were amazed when they saw the creature through the window during a lesson.
Since the squirrel, now nicknamed Pete, was first seen, it has become a regular fixture at the school but no one has been able to say whether the animal has fallen into purple paint, had a run-in with some purple dye, or whether there is another explanation.
Dr Mike Edwards, an English teacher, said: "I was sitting in my classroom and looked out the window and saw it sitting on the fence. I had to do a double take