Bitter winds, freezing fog and icy nights will usher in the New Year, forecasters have warned.
Temperatures could drop to as low as minus 13c (9f) in the next couple of weeks as Britain experiences night after night of frost.
Daytime temperatures will barely rise above zero in many areas this week, and revellers will need to wrap up warmly on New Year's Eve to keep out the chill.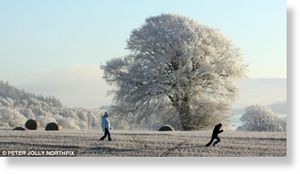 The forecast follows the coldest start to winter in three decades and a blast of snowy weather which hit Britain in early December.
Met Office forecaster Stephen Holman said the next two weeks are expected to remain bitterly cold.
There is significant risk of a 'very cold snap' towards the end of the next fortnight bringing sleet and snow in northern and eastern regions, he added.