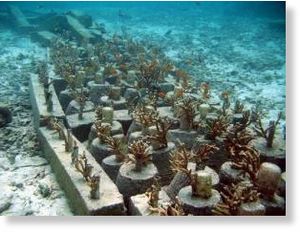 A team of scientists from the New York-based Wildlife Conservation Society (WCS) has reported a rapid recovery of coral reefs in areas of Indonesia, following the tsunami that devastated coastal regions throughout the Indian Ocean on December 26, 2004.
The WCS team, working in conjunction with the Australian Research Council Centre of Excellence for Coral Reef Studies (ARCCoERS) along with government, community and non-government partners, has documented high densities of "baby corals" in areas that were severely impacted by the tsunami.
The team, which has surveyed the region's coral reefs since the December 26, 2004 tsunami, looked at 60 sites along 800 kilometers (497 miles) of coastline in Aceh, Indonesia. The researchers attribute the recovery to natural colonization by resilient coral species, along with the reduction of destructive fishing practices by local communities.