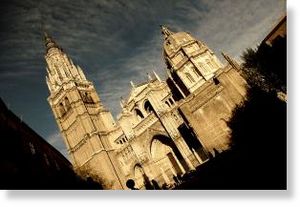 A Spanish research group has reconstructed the pattern of droughts in Spain between 1506 and 1900 on the basis of ceremonial records held at the Cathedral of Toledo, in order to observe how droughts have varied over the past 500 years. Short-term meteorological data and tree growth rings have also been used to supplement the records of ceremonies.
Historical documents such as the records of rogativas (ceremonies with origins dating back to Roman agricultural rites) compiled at the Cathedral of Toledo and municipal churches, have allowed researchers to gain an insight into the climatological period between 1506 and 1900 in Toledo and Madrid, particularly in regard to extreme weather events such as droughts.
After processing this information, the scientists published their work in
Global and Planetary Change
. Their article shows that droughts in Spain throughout most of the 16th Century were infrequent and shorter than in subsequent periods. The period between 1676 and 1710 was characterised by lower hydric stress, and the 19th Century experienced a low frequency of droughts. However, "the most severe droughts were recorded during the period from the end of the 16th Century up until the 18th Century", Juan I. Santisteban, one of the authors of the study and a researcher at the Complutense University of Madrid (UCM) tells SINC.