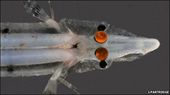 A Pacific fish uses mirrors as well as lenses to help it see in the murky ocean depths, scientists have revealed.
The brownsnout spookfish has been known for 120 years, but no live specimen had ever been captured.
Last year, one was caught off Tonga, by scientists from Tuebingen University, Germany.
Tests confirmed the fish is the first vertebrate known to have developed mirrors to focus light into its eyes, the team reports in
Current Biology
.