DAMASCUS - Smoke rose from burning heaps of wreckage Saturday as residents of rural Arkansas cleaned up what was left of their homes after deadly tornadoes scoured a state that has been plagued by severe weather this year.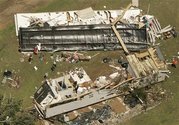 ©AP Photo/Danny Johnston
A mobile home is destroyed in Center Ridge, Ark., after storms struck the area Friday, May 2, 2008. A powerful storm system packing tornadoes and heavy winds roared across the nation's midsection early Friday, killing at least seven people in Arkansas including a teenager crushed by a tree while she slept.