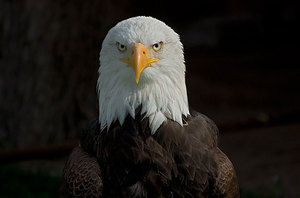 ©stock.xchng
The bald eagle is one of the Endangered Species Act's successes. The iconic bird of prey was officially delisted on June 28, 2007.
Changes that the Bush administration is proposing to make to Endangered Species Act regulations just aren't sound science, various scientists and conservation groups say.
They're concerned that the loss of scientific oversight resulting from the changes will leave some species vulnerable to federal projects that could damage habitats.
The Endangered Species Act (ESA), signed into law by President Nixon on Dec. 28, 1973, does more than just provide for the creation of the Endangered Species List. The act also requires that "recovery plans" be drawn up and implemented to protect and ultimately restore the populations of endangered species, and it charges the U.S. Fish and Wildlife Service and National Marine Fisheries Service with detailing and enforcing these plans.