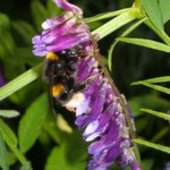 They accused the Government of failing to invest in the research needed to stem diseases and parasites which are now thought to have destroyed one in three bee colonies over the past year.
The British Beekeepers' Association (BBKA) has calculated that up to two billion bees succumbed to sickness between November 2007 and April 2008, with a similar number expected to be wiped out by the end of this winter.
It wants ministers to increase the £200,000 currently spent on the research of bee health to £8 million over the next five years.
The BBKA warns that unless the money is spent a cure will never be found - leading to the ultimate extinction of Britain's honeybees.