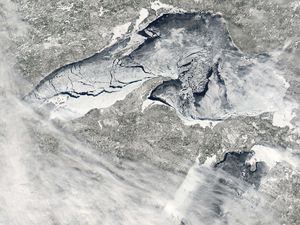 Hancock - There hasn't been much snowfall in the Houghton/Hancock area recently, and according to Steve Fleegel, that's due in large part to the condition of Lake Superior.
"It's pretty much frozen over," said Fleegel, who is a meteorologist at the National Weather Service office in Negaunee Township. "There's a few little breaks here and there."
Because the lake is frozen, Fleegel said when cold air passes over it, lake effect snow isn't created as when the relatively warmer water is open.
Despite the colder-than-normal December and January, Fleegel said there was an area of open water east of Marquette. After the colder-than-normal temperatures in the last week of February and so far in March, that area finally froze over.
"(December and January) kind of set the stage," Fleegel said.