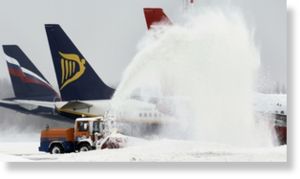 Paris - Hundreds of travelers trapped by icy weather spent Christmas Day queuing for flights in Europe on Saturday after sleeping on camp beds overnight in Paris and Brussels airports.
Travel disruptions this month have upset year-end travel for hundreds of thousands of people and raised questions about the air industry's lack of preparation for icy weather.
Flight schedules were returning to normal in Paris, thanks to fresh deliveries of de-icing fluid from Germany and the United States.
But many people were still set to miss Christmas dinners at their destinations. Travel chaos was compounded by disruptions to high-speed trains and clogged roads from England to Sweden in one of Europe's snowiest Decembers.