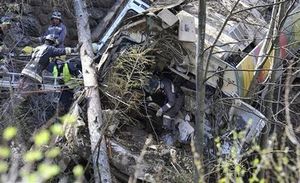 A landslide hit and derailed a train in northern Italy on Monday, killing 11 people and leaving some 30 injured, officials said.
The accident happened near Merano, a small town close to the Austrian border about 300 kilometers (185 miles) north of Venice.
With the wreckage still on the tracks, rescuers were working to pull out bodies and find possible survivors. The area was cordoned off, said Giuseppe Marazzi of the local firefighters.
He said that 11 people were killed and about 30 were injured, including seven who were hospitalized in serious condition.