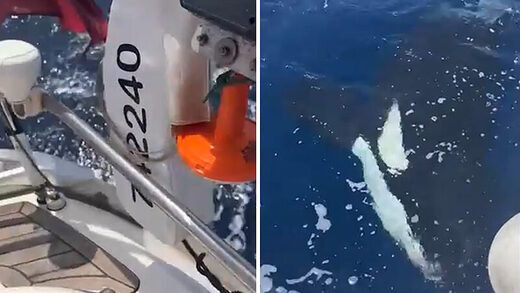 Orcas have attacked and sunk a third boat off the Iberian coast of Europe, and experts now believe the behavior is being copied by the rest of the population.
Three orcas (
Orcinus orca
), also known as killer whales, struck the yacht on the night of May 4 in the Strait of Gibraltar, off the coast of Spain, and pierced the rudder. "There were two smaller and one larger orca," skipper Werner Schaufelberger told the German publication
Yacht
. "The little ones shook the rudder at the back while the big one repeatedly backed up and rammed the ship with full force from the side."
Schaufelberger said he saw the smaller orcas imitate the larger one. "The two little orcas observed the bigger one's technique and, with a slight run-up, they too slammed into the boat." Spanish coast guards rescued the crew and towed the boat to Barbate, but it sank at the port entrance.
Two days earlier, a pod of six orcas assailed another sailboat navigating the strait. Greg Blackburn, who was aboard the vessel, looked on as a mother orca appeared to teach her calf how to charge into the rudder. "It was definitely some form of education, teaching going on," Blackburn told
9news
.