Earth Changes
Disasters News
YouTube
Sat, 12 Sep 2020 19:05 UTC

Comment: More footage:




---
---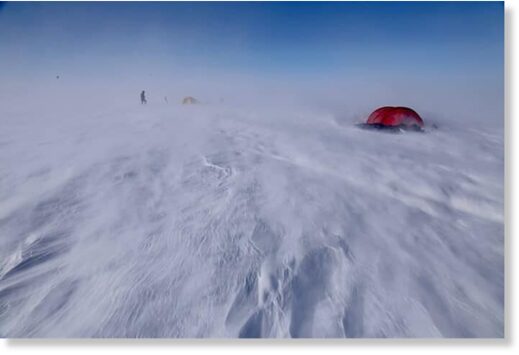 Despite unfavorable conditions, the three Greenland expeditions are progressing across the Inland Ice.
Norwegian sisters Aase and Hanne Seeberg are performing strongly on their east-to-west traverse. After 22 days, they are due to arrive at DYE II, an old radar station about three-quarters of the way along their 600km route.
"They have found deep snow
but have skied a regular 20km every day," reports expedition liaison Lars Ebbeson. "They cleared the Summit [the apex of the Ice Sheet]
before the last storm on the east side
, so have been able to progress over the last few days."
---
Scott Sistek
KOMO News
Sat, 12 Sep 2020 17:57 UTC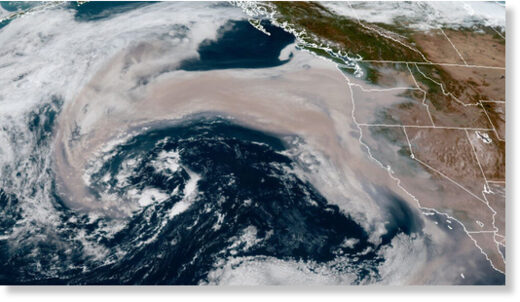 We've got another one for your 2020 list...
I'm going to file this under "I've never seen this in my career, but I probably should have expected it this year" as some of this thick smoke from the historic fires burning in Oregon and California is now getting sucked right into a Pacific storm.
Watch:
---
News18
Sat, 12 Sep 2020 13:28 UTC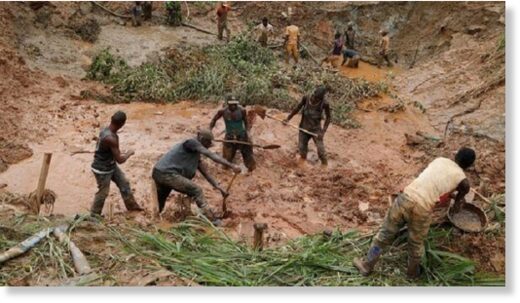 About 50 people are feared dead after a gold mine collapsed in the eastern Democratic Republic of Congo following torrential rain, local authorities said Saturday.
The accident in the makeshift mine occurred on Friday in the town of Kamituga, in South Kivu province.
Provincial governor Theo Ngwabidje Kasi deplored "the tragic deaths of 50 people, most of them young".
However, Kamituga mayor Alexandre Bundya said "we are not yet sure of the exact number" of victims. A local resident who was at the scene, Jean Nondo, told AFP that "according to witnesses, there are more than 50 dead. There is only one survivor."
He said a river close to the mine had flooded after torrential rain.
---
Billie Thomson
Daily Mail
Fri, 11 Sep 2020 13:08 UTC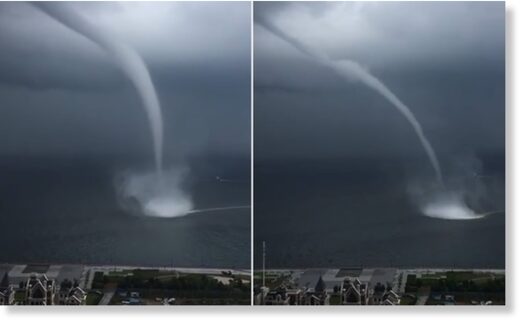 Two waterspouts descended on a coastal city in eastern China today, leaving the locals stunned.
Footage released by the meteorological authority of Dalian shows one of them looming over a business district in the afternoon.
The spectacle occurred at around 2pm near the East Harbour Business District, according to Dalian Meteorology Bureau.
---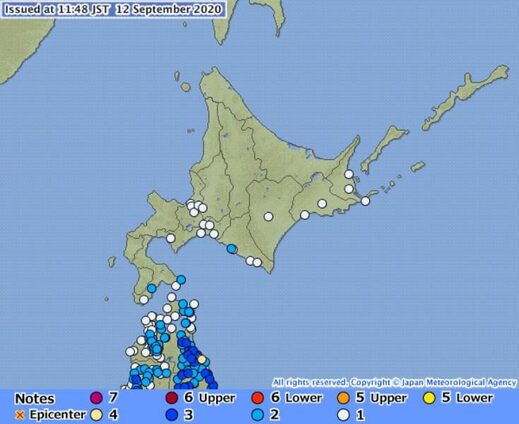 A magnitude 6.1 earthquake, which measured 4 on the
shindo
(intensity) scale, was detected at a depth of 40 kilometers off the coast of Miyagi Prefecture, on Saturday at 11:44 a.m.
There is currently no tsunami warning in effect.
As a precaution, those near coastal areas are advised to move to higher ground.
---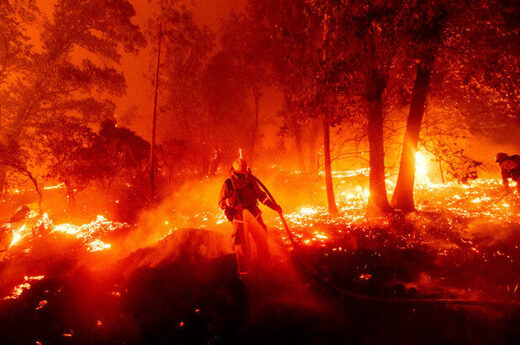 A record amount of California is burning, spurred by a nearly 20-year mega-drought
. To the north, parts of Oregon that don't usually catch fire are in flames.
Meanwhile,
the Atlantic's 16th and 17th named tropical storms are swirling,
a record number
for this time of year
. Powerful
Typhoon Haishe
n lashed Japan and the Korean Peninsula this week.
Last month it hit 130 degrees in
Death Valley
, the hottest Earth has been in nearly a century.
Phoenix keeps setting triple-digit heat records, while
Colorado went through a
weather whiplash
of 90-degree heat to snow this week. Siberia, famous for its icy climate,
hit 100 degrees
earlier this year
, accompanied by wildfires. Before that Australia and the Amazon were in flames.
Comment:
While former NASA chief scientist Abdalati is wrong about a number of things, it is obvious to anyone paying attention that there are great changes afoot on our planet. And so for a more compelling answer as to what's driving these changes and that also explains the increase in extreme and unusual events, across the board, from
sinkholes
; extreme temperature swings; global
cooling
; the meandering
jet stream
and
stalling
gulf stream; the unusual
electrical
activity in our skies; the rise in
fireballs
and comets; the increase in
volcanic
and seismic events - and much more - check out Pierre Lescaudron and Laura Knight-Jadczyk's book
Earth Changes and the Human-Cosmic Connection
, as well as the following SOTT podcasts:
---
Boureima Balima
Reuters
Thu, 10 Sep 2020 18:59 UTC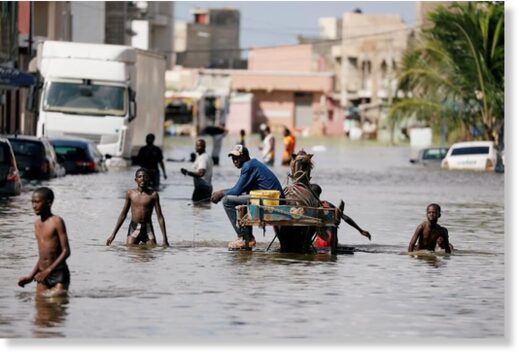 Nigerien student Hachimou Abdou has had to catch a boat to classes since river water swamped his route to university in the capital Niamey - one of about 760,000 people hit by severe flooding in recent weeks in parts of West and Central Africa.
Floods are common during the rainy season, but in recent years climate change, land degradation and poor urban planning have led to more frequent disasters as rapidly-growing cities struggle with
heavier-than-normal rainfall.
Burkina Faso, Cameroon, Chad, Ghana, Niger, Mali, Nigeria, Congo Republic and Senegal are among those worst-hit this year, with at least 111 people killed, according to latest figures from the U.N. Office for the Coordination of Humanitarian Affairs (OCHA).
---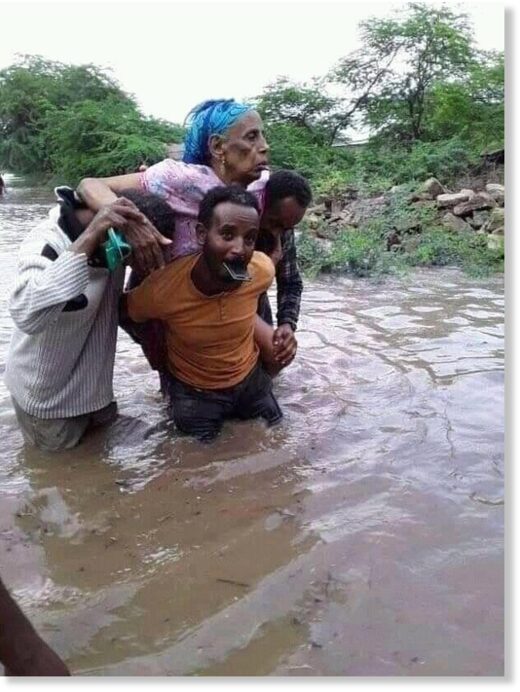 Heavy rain and flooding continue in Ethiopia, with over
500,000 people affected and around 300,000 displaced since July.
Unusually heavy Kiremt season (June to September) rainfall triggered flooding in the country from late July.
By early August the UN reported 30,000 people had been displaced, with many of them in the Afar region after the overflow of Awash River. The regions of Gambella, Oromia, SNNP and later Amhara were also affected.
In a report of 06 September, UN Office for the Coordination of Humanitarian Affairs (OCHA) said "heavy summer season (June-September) rains continue to cause flooding in many parts of the country. Some 500,000 people were so far affected, including some 300,000 displaced."
---