A new iguana has been discovered in the central regions of Fiji. The colorful new species, named Brachylophus bulabula, joins only two other living Pacific iguana species, one of which is critically endangered. The scientific name bulabula is a doubling of bula, the Fijian word for 'hello,' offering an even more enthusiastic greeting.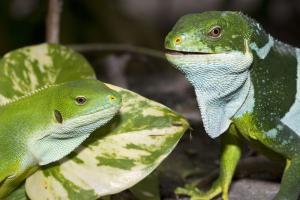 ©Paddy Ryan, Ryan Photographic
Brachylophus bulabula.
Pacific iguanas have almost disappeared as the result of human presence. Two species were eaten to extinction after people arrived nearly 3,000 years ago. The three living Brachylophus iguana species face threats from loss and alteration of their habitat, as well as from feral cats, mongooses and goats that eat iguanas or their food source.