Bluefin tuna born on opposite sides of the Atlantic spend their juvenile years together, before returning to natal waters in the Gulf of Mexico and the Mediterranean Sea to breed.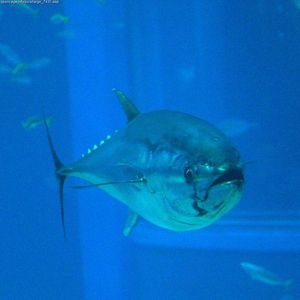 The findings could have implications for the management of what were once thought to be entirely distinct populations.
David Secor of the University of Maryland and colleagues looked at chemical signatures in the fish's inner ear to determine where each of the highly endangered fish came from.
Specifically, the team looked at a bone-like structure called the otolith, a calcium-carbonate deposit that is laid down after a fish hatches. These carry different concentrations of oxygen isotopes depending on whether the fish developed in cool Mediterranean waters - eastern bluefin - or warmer Gulf waters, which spawn western bluefin.