I recently happened upon the SORCE/TIM website and decided to look up the plot of the full
total solar irradiance
(TSI) dataset.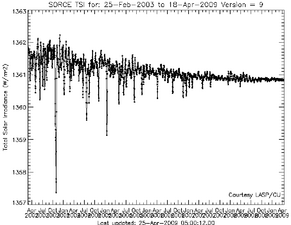 The SORCE mission began collecting TSI data in February 2003.
I was curious to see if the variations in the TSI had begun to rise yet, perhaps indicating a start to cycle 24. Visual inspection of the SORCE TSI plot showed just the opposite - variations continue to decline in amplitude.
If cycle 24 has started, there are no signs of it in these data
.
We can be a bit more quantitative if we examine, instead, a plot of TSI variance with time. I produced such a plot using the daily average TSI data provided on the SORCE web site.