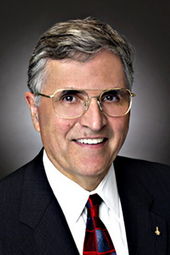 Last month Apollo 17 astronaut and moonwalker Harrison Schmitt added his voice to the growing chorus of scientists speaking out against the anthropogenic [manmade] global warming (AGW) theory. In
strongly worded comments
he said the theory was a 'political tool.' Now, in a speech at the International Conference on Climate Change (
Link
) he outlined his argument in great detail saying, "the science of climate change and its causes is not settled."
Schmitt recalled as a child in Silver City, New Mexico helping his father, also a geologist, take rain measurements. Those early experiments spurred the former astronaut's interest in earth sciences at an early age. He recalled how later in life, while on the surface of the moon, he made weather forecasts for the southern hemisphere of the earth.
In wide ranging commentary, Dr. Schmitt made a point by point argument against many of the things that global warming advocates point to in support of the theory. In a similar vein to his comments last month, he continued to admonish scientists and politicians that have politicized the issue and said those that disagree do have a battle ahead of them.